Board Assessments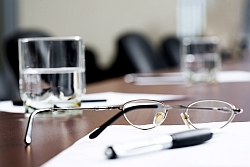 Some clients need direct, hands-on assistance with their governance development. governWell™ can work with you to accomplish the governance improvement outcomes most vital to your success. 
Governance Practices and Performance Assessments
In addition to the governWell™ toolkit, we offer a comprehensive and robust governance practices and performance assessment service.
Our governance assessment includes a proven tool guaranteed to identify governance risks and create governance gain. We offer three levels of governance assessment services:
AssessWell Essential™: Includes our basic governance assessment administered with no changes, recommended emails to send to the board, and a summary report that includes recommendations for board improvement.
AssessWell Custom™: Includes all features of AssessWell Essential™ and the ability for you to modify the survey criteria to make it unique to your organization's needs. 
AssessWell Plus™: In addition to the selection of either AssessWell Essential™ or AssessWell Custom™, organizations may add a one-hour telephone consultation to further discuss the results, recommendations for improvement, and governance development opportunities. 
Samples and More Information
To download sample content included in our governance practices and performance report, click here.
To see our easy five-step process to implementing a governance assessment, click here.
For a sample of our AssessWell Custom™ planner, click here.